The form clearly read "Requested Amount: ____". That was it, nothing complicated or abstract. Yet, why was I so nervous to enter an amount?
I was submitting a request for funds from the university to help pay for our upcoming united event on campus. I knew we needed every bit of the money we were asking for, yet something inside of me was saying, "How presumptuous of you, Liza! What an outrageous request. That is far beyond the limit." Hesitantly, I punched in the numbers one by one and hit the submit button.
"It's in your hands, Lord," I breathed.
This fall, October 26th will mark our ninth semester hosting a FOCUS (Family of Christian University Students) event at Kennesaw State University, and my second semester being part of the team. FOCUS is a collaborative event in which campus ministries across denominations come together for three days to praise the Lord and make His name known among the student population through continual prayer and worship. Though it has looked different every time, the vision we feel the Lord has given us for FOCUS this semester is bigger than ever before. In fact, it is a vision that we've all agreed is far greater than we can accomplish without the help of our Great God, but it is when we are facing the impossible that we can most clearly see that nothing is impossible with God.
Meeting Requesting Funds
One week after submitting the request form, I was sitting in an auditorium, waiting for the start of the meeting where two members of our Campus Renewal team and I would present to the student funds committee about our upcoming event and request money. After our presentation, we answered more specific questions from committee members as to the allotment of these funds. Sitting there in the silence, again, something inside me whispered "How presumptuous of you to ask for such a large amount of money," and I felt the anxiety looming.
Our presentation was scheduled towards the end of the meeting, and to our dismay, we watched as the committee denied funding to several groups before us. "I think they all woke up on the wrong side of the bed this morning," my friend beside me whispered of the committee members as they grilled the student standing before them with question after question. For a moment I found my heart welling with anxiety.
"What if that happens to us too?" I wondered. "We need them to say yes, but what if they say no?" Then suddenly, calmly, I heard the Lord's voice breaking through the anxiety, saying "I am Jehovah Jireh, your provider. You can presume upon me, Liza. I have set this vision in your heart and I will come through."
God Always Provides
My friends and I left the meeting that day rejoicing and literally dancing for joy. Because of the Lord's favor, we had been approved for almost $7,500 from the public university to host a three-day, unashamedly Christian event in the middle of campus. The vote from the committee had been almost unanimous.
When I got home, I looked up the word "presume" and one definition I found read "to dare to assume or expect, especially with confidence." I thought of how the Lord had lived up to his name of God our Provider time after time throughout scripture.
I was reminded of how he provided manna for the Israelites and had brought forth water from a rock for them, how he fed thousands of people with only a few fish and loaves of bread, and of how he fed Elijah in the wilderness by sending Ravens. I thought of Philippians 4:19 which says, "my God will supply every need of yours according to His riches in glory in Christ Jesus," and I realized that it is on this attitude of presumption (also known as faith) that He wants us to live. He desires that His children move forward in obedience to what He tells us, trusting and believing that He will provide whatever we need.
Even More Provision
In the weeks since then, we have clearly seen His hand of provision again and again in our planning and preparing for the FOCUS event. Our media team was in need of sound equipment, and an outreach pastor from a local church plant offered his church's whole trailer of sound equipment for us to use. We were also looking for a company from whom we could rent tents, flooring and heaters within our set budget, and the Lord led us to a company who would do it all for $200 less than our limit. I was even looking for old chandeliers to use to decorate and, as I was sharing this need with a friend, she nonchalantly stated that her friend kept extra chandeliers in a closet in her house.  
These are all just small displays of the supernatural provision of our great and loving Father!
So, as October 26 draws nearer and I am tempted to give in to the anxiety that so often threatens to rear its ugly head, I am clinging to the vision that He has given us and choosing to presume upon His faithful and abundant provision. Even after our event is all over, when these fleeting tasks and stresses are all nothing more than a memory, I pray the Lord continues to lead me to the base of mountains too high and rivers too swift for me to cross alone so that I could take his hand again and say, "Jehovah Jireh, I trust you," and this is my prayer for you as well.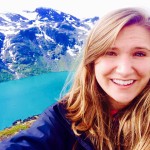 Liza is a senior studying International Affairs at Kennesaw State University in Georgia.  She loves music and traveling, and sharing the hope and boundless love of Christ with the people she encounters through these platforms.