HUNTSVILLE, TEXAS – Made Alive, a conference to help female college students realize their identity in Christ, takes place this Friday, October 14th, at 6pm at University Heights Baptist Church at Sam Houston State University.
In college, there's a lot of people telling you who you should be and what you should be like, and so, if you're not grounded in who you are and who Christ says you are, you're just going to be tossed to and fro," says Allison Bodle, a Public Health major and the visionary behind Made Alive. 
The conference will include musical worship, a prayer wall, a journaling table, guest speaker Erin Thompson, and two testimonies. At the end, the girls will be broken up into small groups led by older women who will help the girls process what they hear and encourage them to connect with a church.
"We belong to someone. What the bible says about us is actually true. The lord calls us so many names. He tells us who we are, but do we actually listen? Do we truly, truly believe it? If we think, if we say that this, the word, is god breathed and everything in it is true – if we can believe the Gospel part of it, why can't we believe what He calls us and what He tells us to put our identity in? We should believe all and that includes who we are in Him," Bodle says.
God spoke to Bodle about her identity in Him during two different summers while she was working at Pine Cove Ranch, a Christian camp in Flint, Texas. During the first summer, her director at Pine Cove pointed her to 1 Peter 2, where God refers to his people as "a chosen generation, a royal priesthood, a holy nation, His own special people," (1 Peter 2:9). The next summer, the camp went through a Bible study on 1 Peter and wrote down every word that God calls his people, pointing out those they felt didn't describe them.
Bodle felt God calling her to start a conference to take these talks about identity to her university, where she herself has experienced the  struggle of trying to find her identity in her school work, decisions and trials.
Last Fall, she presented the idea to her pastor's wife, Ashley Millar. Bodle and Millar both have a heart for girls in sororities and feel as though God wants to reach these girls in particular with this event.
The pair enlisted other women in the church and began working on developing teams, including women who could disciple girls after the event and could facilitate on-campus connections. They also advertised the event on campus and to other ministries and churches in Huntsville. They hope that Made Alive will eventually become a campus-wide event.
Bodle explains that Made Alive is "not as intimidating as going to church, but will get girls connected to a church. My freshman year of college I was invited by an older girl in my sorority to attend a women's ministry night at a local church in College Station. The focus was on who we are in Christ. I was conflicted about whether I wanted the college party experience or to seek after Christ. I was deciding who I wanted to be in college and the Lord used that night to set my heart on him."
If you are in the Huntsville area and would like to attend Made Alive, you can find out more information and register here.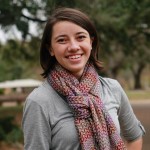 Janelle is a junior Journalism major at The University of Texas at Austin. After college, she hopes to become a foreign correspondent to continue sharing people's stories. Janelle is involved with the Baptist Student Ministry, Austin Stone Community Church, and is a Campus Renewal Media intern.