On Friday, Oct. 28, Reformed University Fellowship (RUF), Association of Black Collegians (ABC) and Student Association from the University of Tulsa (TU) partnered together to go on a walking tour to learn about Tulsa's history of racial tensions.
The Historical 1921 Race Riot
35 city blocks were burned, around 300 people were killed, over 800 people were treated for injuries, and 6,000 people were imprisoned, as the result of one black man being accused of sexually assaulting a white woman in an elevator. This event in Tulsa in 1921 left a scar embedded into the city's history, but is glossed over and ignored for the most part today.
On Memorial Day in 1921, Dick Rowland was a black shoeshiner riding an elevator with white elevator operator, Sarah Page. After a short skirmish that has long been disputed, Rowland was put in jail. Large groups of both the white and black communities then argued over what needed to be done to Rowland at the city courthouse.
Eventually, the black community went home and decided not to take action. The white community, however, crossed over the railroad tracks into North Tulsa, looted businesses that made up the affluent Black Wall Street, and burned down much of the Greenwood district.
"They displaced a whole black community for a long time. There was a lot of wealth in the black community. They had this thriving existence. When the riot happened, that was basically annihilated. There's a lot of people who grew up in Tulsa, especially black people, who do not know this story," Brent Corbin, campus minister of RUF, said.
The Walking Tour
Dan Hahn is a principal for middle grades at a Tulsa primary school. Years ago, he started taking his students on a walking tour to learn about Tulsa's racial history and to encourage them to engage with their community and understand the history surrounding it.
"The tour causes people to see their world and spheres of influence differently," Hahn said. "It causes people on both sides to wonder what else they don't know and desire to interrogate more. I would say that the most common reaction is incredulity. I've never given the tour to a group that knew everything they heard beforehand."
Corbin approached Hahn about leading the tour for RUF students three years ago. He invited ABC to be part of the tour as well. After that, they decided to make it an annual event.
Kyla Sloan, senior speech pathology major, has attended the tour for the past few years as a member of ABC. She recently became the first executive director of diversity and multiculturalism for Student Association, another organization on campus. In this position, Sloan felt as though Student Association needed to also be involved in the tour to "allow students to really learn about diversity and multiculturalism on a larger scale."
About 70 people took part in this year's walking tour. A dinner and discussion led by Corbin, Sloan, and a representative of ABC, took place after the tour to give attendees a space to process the event. 
"[The discussion] gave people a chance to reflect on the event with people they wouldn't normally interact with," Sloan said. "It was really cool to see so many people form the TU community coming together to learn more about this."
Present Race Struggles
While the Race Riot of 1921 was 95 years ago, there are still racial tensions present across the country.
"Things like what happened in Tulsa in 1921 haven't gone away," Hahn said. "We have traded the lynch mob for police departments, the slave trade with mass incarceration, and an overtly racist zeitgeist for polite conversation about 'values' and 'law and order.' Hatred never goes away, it just rebrands itself into palpable forms."
In fact, Tulsa recently experienced this firsthand when, on Sept. 16, 2016, officer Betty Shelby shot and killed Terence Crutcher on the side of the road after his car broke down. Furthermore, over the last five years across America, there have been multiple events comparable to what was seen in 1921. From the shootings of Trayvon Martin in 2012, to Michael Brown in 2014, to Philando Castile this year, and many others, there have been protests and in some cases riots that have shown how race is still an extremely prominent issue in our nation. 
"In 1921, it was definitely more in your face racism," Sloan said. "There's still a lot of racial tension in the world today, but a lot of it has been hidden through rhetoric such as calling people 'thugs' or 'illegal aliens' and all these things that seek to dehumanize and marginalize people."
The Biblical Aspect
Though the walking tour was not explicitly an evangelical event, Corbin sees value in college students understanding their community before taking the Gospel to it.
"If we're going to take the Gospel into the world and if we want to see the healing, renewal, and redemption of things and people that have been broken, then we need to understand why things are the way they are," Corbin said. "[Historically], the most dynamic version of Christianity is a church that is engaged with issues around it and cares about the pleas of the poor and the oppressed. That's at the core of what RUF is doing. We seek to involve people in a holistic way and see how the gospel affects the whole person. It involves us in the whole world."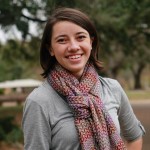 Janelle is a junior Journalism major at The University of Texas at Austin. After college, she hopes to become a foreign correspondent to continue sharing people's stories. Janelle is involved with the Baptist Student Ministry, Austin Stone Community Church, and is a Campus Renewal Media intern.