Micah 6:8 implores God's people to do three seemingly simple things:  do justice, love mercy and walk humbly with God. Ben McConnell, director of the Lawrence, Kan., non-profit organization, Justice Matters, sees the Church as having varying degrees of success when it comes to accomplishing these three tasks.
"The Church, by and large, is great at teaching people to walk with God," McConnell says.  "It's what we do best.  Most churches have adopted a love for mercy as well.  They support missions and implement programs to serve the 'least of these' in our communities.  But many churches never make the jump from mercy-related work to justice-related work.  And doing justice is the first thing on the list."
McConnell and two other local pastors started Justice Matters in 2013.  They believed that a group of united church congregations could work together to pursue justice in Lawrence, and to help solve civic issues that plagued the community.  State budget cuts, school closures, relocation of the local homeless shelter and a proposed bill to expand the county jail were all issues on their radar. 
The newly minted Justice Matters held their first meeting in the fall of 2014.  Twenty local congregations were represented at the meeting.  The group began to take steps toward diagnosing some of these local justice issues, and formulated a plan of attack.
This plan had five distinct steps:
1. gather information from locals about their concerns and vision for the city
2. vote to prioritize these concerns
3. research the source of these problems and the solutions that work
4. tap into the power of organized people to create change at a systemic level
5. monitor the results to insure that change is fully realized
In 2015, Justice Matters spent months gathering data from people all over the city. They found that many citizens shared a concern for the people of our community who suffer from mental illness, and a skepticism about the city's proposed plan to vastly expand the jail in order to incarcerate many such people. After making this issue their top priority for the year, McConnell and his staff researched some possible solutions and drafted a counter proposal to build a new mental health facility in Lawrence at a much lower cost than the proposed jail expansion.  They then gathered thousands of people at their annual Nehemiah Assembly at which they presented their proposal to the city council. 
"Our scriptures speak of a powerful, loving God when matters of justice arise," McConnell said. "We have to go upstream as one body, and trust God will help us along the way."
Justice Matters now has the support of 23 local church congregations, but this still isn't enough for McConnell. 
"Our next step," he says, "is to energize the students at the University of Kansas to get on board."
McConnell thinks that students have a lot to bring to justice work, but often are left out of conversations about civic matters because of the perception that they are only here for a few years.
"I think if we can get six or seven of the campus ministries to get involved, and pull three or four hundred students to this year's Nehemiah Assembly, we might really be onto something," McConnell said. He is especially optimistic about the concern that Justice Matters just voted to prioritize in 2017:  racism at a city level.
"Most of the conversations that we're having about racism are starting with students and starting on campus," McConnell said.  "We think that students from these different campus ministries will have a lot to bring to this conversation."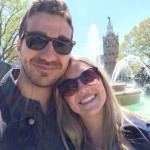 John Benda recently became the director of Campus Renewal at The University of Kansas.  He has worked in church ministry as a worship leader, high school pastor, associate pastor and teacher.  John has also sold used books, cleaned carpets, flipped pancakes and waited tables to make ends meet, and often plays drums in his rock&roll band for absolutely no money at all.  He began working in college ministry in 2014.  John and his beautiful wife, Lydia, live in Lawrence, Kansas.