Campus Ministry Link Launches to Reverse Freshmen Faith Dropout
Campus Ministry Link, an online tool that connects graduating high school students to college ministries and campus churches, launched and became available to use this July.
Studies show that around 70% of college students leave the church. One of the major reasons for this is because the church as a whole has had no way of intentionally connecting students to Christian communities before they begin college, leaving hundreds of thousands of students' faith up in the air during the most important transition of their lives.
Campus Ministry Link seeks to double the national yearly average of students who continue to pursue their faith in their freshman year of college by facilitating relational connection and communication between students and campus ministry leaders in advance. Furthermore, Campus Ministry Link will allow Christian freshmen to be immediately involved in reaching out and discipling non-Christian students at the start of the school year when they are most open to the Gospel.
"When a Christian college freshmen is alone, their faith rarely survives in today's college environment. When they're connected in advance to campus ministries and Christian friends, they thrive and impact their classmates," says Cru evangelist and author, Josh McDowell.
The parent organization behind Campus Ministry Link is Campus Renewal, which was founded in 1997 with a mission to create and catalyze united movements that transform college campuses. With a long history of building relationships among campus ministries, Campus Renewal felt that bringing them together to start Campus Ministry Link was their next step.
Twelve of the largest national college ministries, including Cru, Intervarsity, Chi Alpha, RUF, and more, have come together for this project and have listed their chapters across the country on Campus Ministry Link. Many national high school ministries and denominations have joined the project as well to ensure their graduating students connect to a faith community in college.
"The level of commitment and enthusiasm of national college ministries has been exciting and humbling," says President and Founder of Campus Renewal, Jeremy Story. "There is a real belief that we are on the verge of a great student awakening, and that Campus Ministry Link will be a part of this.
Local campus ministries and churches who focus on reaching universities can list their information on the site as well by going through a simple approval process. Parents and youth pastors can also create accounts if they would like to assist their students in finding a ministry.
Most importantly, students can begin searching for information on ministries at the colleges they plan to attend, and begin to directly message those ministries' leaders.
"The laborers have been too few," says John Decker, Project Director for Campus Ministry Link. "This tool will make it normal for students to be excited about evangelism during their first semester of college, purpose will increase in youth groups, gospel movements will be sparked, and many more will be discipled to change our nation and the world."
Go to www.campusministrylink.org to register your ministry if you're a campus minister, or to begin searching for campus ministries if you're a student. Share this article to get the word out so that every freshman is connected to a faith community this coming semester!
For more info, email us at info@campusministrylink.org.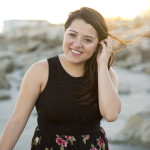 Ashlye is the Public Relations manager for Campus Renewal and a graduate of The University of Texas at Austin. She enjoys discussions on racial reconciliation, authentic Christianity, and the parallels between evangelism and PR. Ashlye is married to Steven, a fellow Campus Renewal staffer, with whom she loves going on adventures and doing ministry with.